Need to publish your content to online media distribution platforms like Amazon Prime Video or Google Video? Imagen has many OTT solutions available to you
Contents
---
Introduction
Imagen distributes films, subtitles, images, posters, trailers and more to many different OTT platforms, such as Vimeo, Hoopla, Comcast, Roku, AppleTV, Wurl, and Amazon. It is normal for such platforms to have very specific requirements, such as varying metadata dimensions and media formats.
We have developed solutions for a number of OTT content delivery providers, and the list is growing:
What can Imagen do?
We can develop a solution triggered by a workflow, a saved search, a watchfolder, or an MRSS feed.
Media production example
A variety of Triggers are used by our media production solutions. A workflow is used first to run and create jobs, sending webhooks, which are picked up in turn by our bespoke serverless function apps. If it's required to download and package the assets, this will take place on your Imagen server, ready to be sent to the OTT provider by IBM Aspera.
Sports federation example
Our sports federation solution is triggered by a saved search, which will run a workflow to download assets and export the requisite XML files. These XML files are placed in 'watched' folders, so upon arrival, a script is called to check that we have everything we need, rename assets where necessary, add some extra info into the XML files, and send them to the OTT platform via IBM Aspera.
Where Video and Image assets are not provided in the package, shared access signatures(SAS) URLs are provided so they can be pulled by the OTT provider.
What might this look like?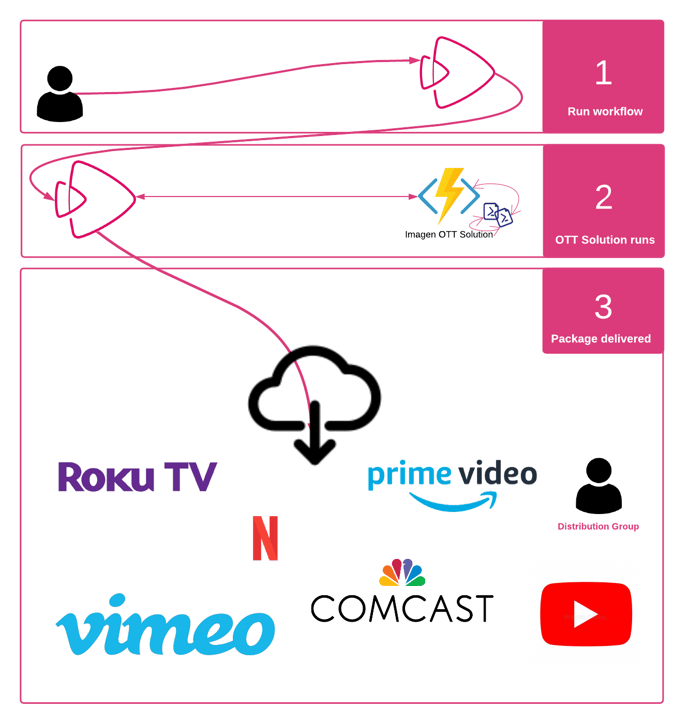 💡Pro tip: Get in touch with your Imagen account manager to discuss an OTT solution
Further Reading