Distribute your content with an MRSS feed. Just like with podcasts, users can subscribe to your feed and receive content managed by a "Custom search query"
Overview
Introduction
You will be able to create an MRSS Feed, and you will also learn to delegate the required permissions by following this guide. The user to which you grant access need not be an administrator, but they must have the right to create MRSS feeds
---

Provide a user with (M)RSS permissions


To create an MRSS feed at least one user will need to be granted 'Create RSS Feed' permissions. The guide below will show you how to create a new group called 'MRSS Feed Creators', and how to add users to this group


---

Create an MRSS Fieldset


Fields from your Record Schema can be added to the MRSS feed to pass supplementary information

5. Save the MRSS Feed

Enter your search query, select the desired sorting, and click 'Save'.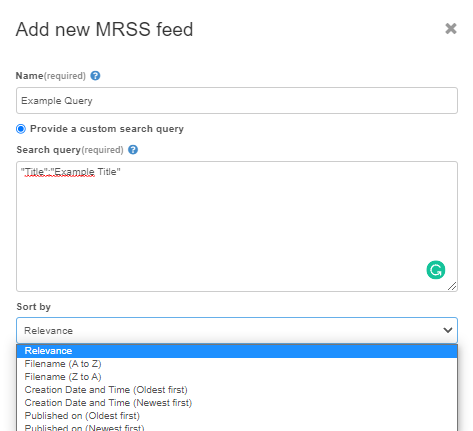 6. Share with subscribers
You will now be presented with a subscribable RSS feed URL like:
https://[Your Imagen Domain] /user/rss/feed_0000000000000000000000000000000000000000
The Next Steps