Your platform users can be presented with a self-serve option to license your media. When browsing, customers can add media to their shopping basket, and then calculate a price based on your defined Media Rights Sets.
Media Rights Sets
Media Rights Sets allow you to establish the price for a customer's intended usage. This is done by prompting the customer to answer questions that you define at the checkout stage. The customer will then choose from a series of pre-configured responses, and the answer given will either prompt more questions or calculate the price.
Media Rights Set Questions
Any question can be used to prompt for an answer at the checkout stage. Questions often include requests for information about the media's intended use, destination (e.g., platforms or countries), and license duration. The answer can be used to multiply or offset the cost and/or VAT.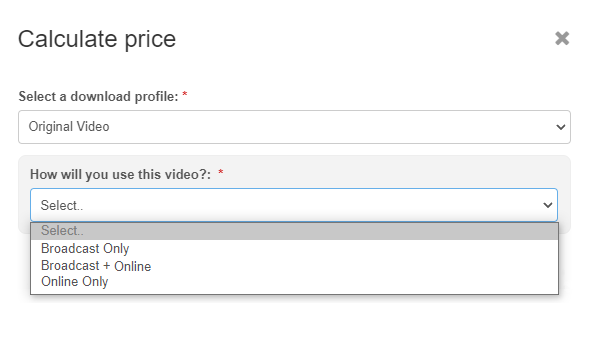 Where licensing scenarios become too complicated for a series of questions and answers, you may choose to simply prompt the customer to get in touch by phone or email.

Media Rights Considerations
Pricing for quality (Workflow)
As a platform administrator, you can configure pricing based on quality. For example, the original video, mezzanine, or low-resolution web proxy can be priced individually.
Pricing per Country
Pricing can be configured based on Country (and Territory), and with our integration with VATsense, VAT protocols for countries around the world can be automatically applied and even overridden by a custom VAT rate.
Establishing Rights Sets
Creating Rights Sets will present your customers with questionnaires that calculate the price based on their intended usage.
Questions are entirely configurable to fit your requirements and responses can multiply or offset the base cost of your media.